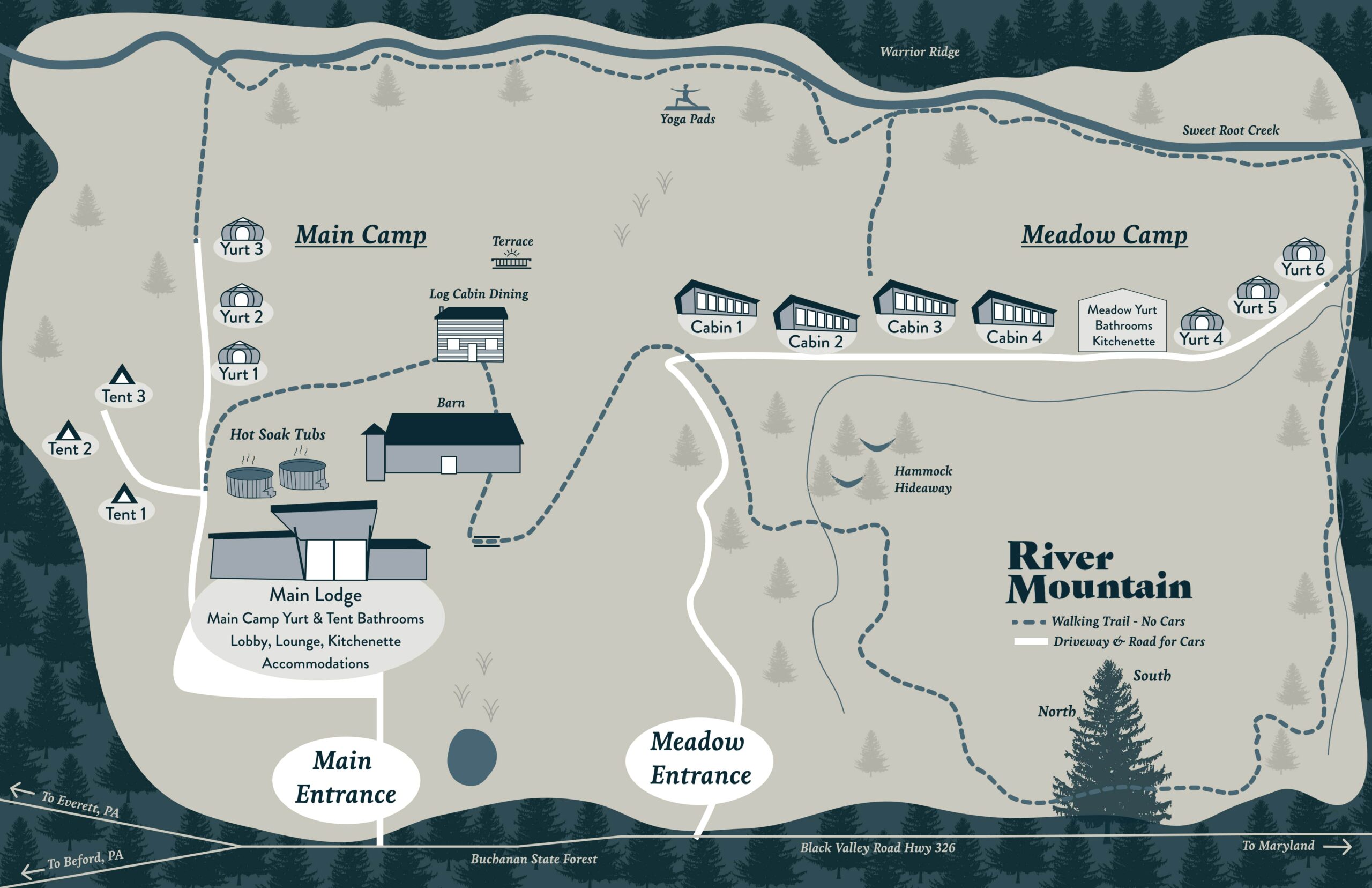 Lodging for the modern explorer -- luxury glamping accommodations, adventure in the outdoors, relaxation in nature, and a truly memorable experience with each stay. Nestled in the mountains of Pennsylvania, River Mountain glamping resort is a blend of a cabin stay, a tiny house vacation rental, and camping! River Mountain's modern vacation cabins are perfect for a weekend getaway or road trip near Washington D.C., Baltimore, and Pittsburgh.

Accommodation Types:
Private Cabins
Private Lodge Rooms
Glamping Yurts
Tents in the Trees (Seasonal)
---
Property Name: River Mountain
Street Address: 3600 Black Valley Road
City : Everett - Pennsylvania
Postal Code : 15537
Contact Name: Reservations
Phone: 8142596580
Amenities
Baggage storage
Gift shop
Laundry service
Lounge
Meeting rooms
Printer
Welcome drink
---
Check-in/Check-out Policies
This property has the following check-in and check-out times and policies:


Check-In: 3:00 PM
Check-Out: 11:00 AM
Late Check-out Hour: 12:00 PM
Late Check-out Fees: $30.00
Late check-out (after 11:00 AM and before 12:00 PM) may result in a fee.
Property and Cancelation Policies :

CANCELLATION POLICY - Regular, Nightly Guests:

• River Mountain requires a non-refundable 25% deposit at the time of booking.
• Reservations that are cancelled less than 14 DAYS prior to check-in will be charged the full amount of the reservation.
CANCELLATION POLICY - Group Retreat Guests:
River Mountain retreats are limited to a small number of attendees to allow for a more personable, intimate experience. Our cancellation policy is in place to help guests, hosts, and River Mountain share expenses that may arise from unexpected cancellations.
All deposits are non-refundable.
Full balance is automatically charged 30 days prior to retreat start date, unless otherwise noted.
Cancellation requests submitted within 60 days of retreat start date, 50% of the balance, less deposit, will be refunded.
Within 60 days of your retreat: sorry but no refunds given, no exceptions.
Any refunds allowed will incur a 3% processing fee.No one books a retreat with the intention of cancelling it, but unexpected events do occur.
CANCELLATION POLICY - Hosts of Retreats or Groups:

Host agrees to notify River Mountain, in writing, within five (5) business days of any decision to cancel. In addition, if a Cancellation occurs, the host agrees to pay River Mountain, as liquidated damages and not as a penalty, the amount listed in the chart below under this agreement.
Within 30 Days of Reservation - Loss of Deposit

30 - 90 Days After Reservation - 25% Anticipated Revenue

Greater than 90 Days After Reservation - 100% Anticipated Revenue
Terms and Conditions
Meals
To avoid unnecessary waste and impact on our environment, we ask that guests place meal orders at least one day in advance of arrival. Please use the link below to order. If you are reserving for a retreat or group package, you do not need to order meals using the link below, you will receive a separate email and link for meals.

https://rivermountain.org/guest/meals/

If you have additional guests in your party who would like to order food, feel free to send this link to anyone in your group

Packing List

For all seasons, be sure to bring all-weather footwear and an extra pair of shoes. During hikes, your shoes might get wet, and it's always nice to have an extra pair of shoes to put on at night.
Below is a list of items we suggest for fall/winter trips:
Refillable water bottle

Hat/Headband/Ear Covering for Cold Weather

Mittens/Gloves for Cold Weather

Raincoat for rainy weather

Socks - Thicker socks for cooler weather; an extra pair if others get wet.

Extra clothing Layers - Remember, we're in the mountains and it's cooler up here, especially at night.
Below is a list of items we suggest for spring/summer trips:
Raincoat for rainy weather

Refillable water bottle

Bring a few extra layers, even during spring and summer trips. We're in the mountains, and if the temperature drops at night, it's nice to have an extra layer to wear around the campfire!

Bug spray. We advise that guests apply bug spray every day before walking our paths and trails.

Sunscreen
Additional Notes:
*Linens and Toiletries - River Mountain provides all linens, blankets, pillows, and towels. There is shampoo, conditioner, and shower gel in the showers.
*If you plan on using the hot tubs, please bring a towel to use once you're done soaking. You do not need to bring towels for regular showers. We provide those!

*If you would like to use a hairdryer while on-site, please bring one. We do not have any hairdryers on-site. All of our bathrooms have convenient outlets to plug into.
*Make sure you pack a flashlight or headlamp (or both). If you don't have either, let us know, and we can provide you with a flashlight.


Wifi

We have free wifi service throughout the River Mountain property. Just connect to 'RIVER MOUNTAIN GUEST'. No password required.

Directions

Use this direct link to map your way to River Mountain:
https://g.page/rivermountainpa
. Or search specifically for "River Mountain, Black Valley Road, Everett" in your mapping app. Typing our plain address into some apps may pull up a location 10 miles away, so please use the link or search phrase.

Guest Health and Safety
If you experience flu-like symptoms or have a temperature of 100 and above 48 hours before your visit, we ask that you do not stay with us at this time. We will have to turn guests away who exhibit any of these symptoms. Temperature checks will be performed upon check-in.Masks & PPE - We require staff to wear a mask at all times during guest interaction and ask that guests wear masks in common areas as well.
What to Expect
Expect a great time, no outdoor experience required! Main lodge rooms are located right next to the parking lot. Cabins, glamping tents, and tipis are located a short stroll down a crushed gravel walkway from our parking area. We will transport all of your baggage for you so that you may enjoy the scenic stroll. For those that need assistance, rides are provided. We have magnificent outdoor spaces and beautiful interiors for you to utilize during your stay.
Share Your Stay
Share your River Mountain experience with us on Instagram! Since we're new, it's fun for us to see!
https://www.instagram.com/rivermountain/
FAQ's
To visit our website FAQ's and learn more about our retreat, use the link below.
https://https://rivermountain.org/faq/

Reservations
All requests to reserve must include the first and last name of all adults occupying the accommodation and a valid credit card for a guarantee of arrival. Our rates are subject to change at any time. River Mountain has the right to cancel your reservation if you have not checked in by 3PM the day after you are scheduled to arrive.


Please note that check-in cannot be completed until full payment for your accommodation has been received and approved. A valid photo ID is required upon check-in.


21+ to Book a Reservation
To book a stay at River Mountain, an individual must be 21 years or older. Guests under 21 years are welcome to stay with River Mountain as part of the reservation!

Guest(s) Per Pod
We permit 1 guest max per twin pod and 2 guests max per queen pod.

Smoking
Smoking inside River Mountain buildings and cabins is prohibited. This applies to both traditional smoking methods and all electronic delivery systems, including vapes, vaporizers, vape pens, hookah pens, electronic cigarettes (e-cigarettes or e-cigs), e-pipes, and any variations of the foregoing regardless of the product's name. Any smoking in buildings or cabins, or strong lingering smoking scents, will result in a cleaning fee that will be charged to the credit card on file up to $250.


Dogs
Dogs are excellent travel companions! Guests may bring their dog if staying in a cabin, main lodge room, tipi, yurt tent, or tent in the trees. Dogs are not allowed if staying with a group retreat. There is a $35 cleaning fee per night for up to two dogs. A third and/or fourth dog will be subject to the same fee. To ensure the comfort and safety of you, your dog, and other guests, dog owners must adhere to the following dog policy.
Dogs are allowed for stays in a cabin, main lodge room, tipi, yurt tent, and tent in the trees.
Dogs ARE NOT ALLOWED when staying for a retreat - this is for the safety and wellness of the dog and others on the retreat.
$35 cleaning fee per night for up to 2 dogs
A third and/or fourth dog will be subject to the same fee.
Dogs may not exceed the weight limit of 80lbs.
Please bring a dog mat, dog bed, or small crate for the dog inside your accommodation.
Please clean up after your dog.
Dogs must remain on a leash when in community areas and around other guests.
No dogs that are aggressive toward other guests or other dogs.
No dogs that are uncomfortable, anxious, or under stress with new places and faces.
No dogs that bark excessively or at people, when others come to the door, at night, or are left unattended.
No dogs in the log cabin dining area or any food venues.
Dogs may not be left unattended.
Dogs are not allowed for retreat reservations.
In addition to a cleaning fee, should your dog shed a great amount or have an accident inside, an additional cleaning fee will be charged to the credit card on file in the amount of $100. Should your pet cause property or item damage, an incidental fee will be charged at market value to your credit card on file. No cats or other animals are allowed.


Damage To or Loss of Property
We want you to have a great time when you are here. But if things get too crazy, we go by the old-school rule of 'you break it, you buy it' and property damages or missing items will be charged to your credit card at market value. Pre-existing damages or room issues must be reported to the front desk immediately after registration to avoid responsibility and potential charges. The hotel allows guests, with permission, to receive occasional packages and special deliveries at the property. We are not responsible for the packages or their contents or the storage of them.

Quiet Hours
10:00PM to 7:00AM EST is quiet time at River Mountain. Feel free to continue having fun in your accommodation during those hours. We only ask that you keep the volume down when outdoors or in a common area such as our barn, old log cabin, or main lodge.

Parking
By parking a vehicle at our facility, you (and your guests) are doing so on your own accord. River Mountain does not take responsibility or accept liability for damage, accident or loss to your vehicle or personal property. We have state-of-the-art surveillance cameras watching over the parking lot so, should anything seem amiss, let us know, and we'll check out the footage. And if you plan on leaving your car in our parking lot for a while, no problem. Just let us know, as we reserve the right to tow vehicles.

Alcohol
To uphold the law, we ID all guests receiving alcohol to make sure they're 21 years of age.

ADA
River Mountain is compliant with the Americans With Disabilities Act (ADA). We offer ADA accessible rooms and beds on the property. Please ensure requests by reaching out to us at rtyrrell@rivermountain.org.

Guest Communication

Upon booking a reservation, guest agrees to allow SMS and email communication regarding details of their reservation and future stays at River Mountain. Guest authorizes River Mountain to send SMS (text) notifications to the phone number and email provided. Standard text message rates apply.

Firearms
Any guest or visitor who is in possession of a firearm on the River Mountain premises is personally responsible for abiding by all applicable federal, state and local laws with respect to firearms. Subject to the following restrictions, guests of River Mountain who are lawfully permitted to possess a firearm may bring such firearm onto our premises, provided that the presence of the firearm on our premises: is and remains at all times unloaded; the firearm is and remains secured in a locked, hard-sided firearm container, provided by the guest; and the firearm remains locked in a personal vehicle.

Guests who fail to abide by this policy may be asked to leave the River Mountain premises, without refund. The River Mountain premises are private property, and our firearms policy applies to: (i) all firearms, regardless of whether the firearm is a handgun or a long-barreled gun; and (ii) all guests and visitors, even those possessing a valid license or permit to carry a firearm.The only exception to the restrictions described in this firearms policy statement is for law enforcement officers and designated military personnel, who are on-duty and required to carry firearms in the performance of their duties.

Anti-Discrimination Policy
All Guests at River Mountain deserve respectful and inclusive environments. River Mountain strives to ensure that all guests have access to programming, facilities and accommodations in which they feel comfortable and safe. River Mountain does not tolerate any form of harassment or discrimination based on any personal characteristic, including race, color, gender, religion or nationality.

Policies
River Mountain staff ensure inclusive access to programming, facilities and accommodations. River Mountain staff will also strive to ensure that all guests treat other guests with respect. River Mountain will not tolerate any form of harassment or discrimination based on any personal characteristic between guests. Accordingly, the River Mountain and its staff will:

Respect all guests' gender identity and gender expression;
Create an environment that is friendly and safe for all personal characteristics;
Provide all guests to participate in activities in a manner consistent with their gender identity; Provide all guests with access to facilities that best align with the guests' gender identity, and the ability to participate in activities in a manner consistent with their gender identity; and
Comply with all local, state and federal laws regarding both gender equality and gender segregation.
Violations
River Mountain reserves the right to remove guests whose actions do not align with this policy, and whose actions are detrimental to the health, safety and dignity. River Mountain may exercise these rights on a case-by-case basis.

All guests and River Mountain staff are encouraged to report any actions inconsistent with this policy. For more information about our anti-discrimination practices, if you have questions, or if you would like to make a complaint, please contact us by e-mail at rtyrrell@rivermountain.org or contact Ryan at (814) 259-6580.

Guest Safety
As part of our commitment to guest safety, employees will not disclose the identity, accommodation, or presence of a guest to anyone other than appropriate law enforcement. This includes the taking of or delivery of messages or indirect forwarding of phone calls. It is the responsibility of guests to communicate their presence and accommodation number to any person they wish to receive calls or visits from.

Safety cameras are used throughout the River Mountain property, and anyone on our property may be recorded. River Mountain assumes no responsibility for any personal bodily injury incurred while using our facilities, including the gym/fitness center. If you use the gym/fitness center facilities, you do so at your own risk.

We shall have the right to right to refuse or deny accommodations, facilities or privileges to:

Any person who is unwilling or unable to pay for the accommodations and services offered by Us;
Minors unaccompanied by the minor's parent or legal guardian who fail to comply with the requests made by Us in accordance to PA ST 48 Pa. C.S.A. § 1311(a)(1);
Any person who is disorderly;
Any person who We reasonably believe is seeking accommodations for an unlawful purpose, including the unlawful possession or use of a controlled substance by the person or the use of the premises for the consumption of alcoholic beverages by any person under 21 years of age;
Any person who we reasonably believe is bringing into the lodging establishment property which may be dangerous to other persons, including explosives or illegal firearms;
Any person who exceeds the maximum number of persons allowed to occupy a particular guestroom.
We will not refuse a guest upon the factors under section 2 of the Pennsylvania Human Relations Act.

----------------------------------------------------------------------------------------

River Mountain Waiver

I desire to participate in the activities ("Activities") facilitated by River Mountain ("River Mountain" or "Company") in Everett, PA. As lawful consideration for being permitted by the Company to participate in the Activities, I agree to all the terms and conditions set forth in this agreement (this "Agreement").
Assumption of Risk. I am aware and understand that the activities involves certain risks for physical injury. I acknowledge that any injuries that I sustain may be compounded by negligent emergency response or rescue operations of the Company. I acknowledge that I am voluntarily participating in the activities with knowledge of the danger involved and hereby agree to accept and assume any and all risks of injury, whether caused by the negligence of the company or otherwise.
Waiver and Release. I hereby expressly waive and release any and all claims, now known or hereafter known, against the Company, and its officers, directors, employees, agents, affiliates, members, successors, and assigns (collectively, "Releasees"), arising out of or attributable to my participation in the Activities, whether arising out of the negligence of the Company or any Releasees or otherwise. I covenant not to make or bring any such claim against the Company or any other Releasee, and forever release and discharge the Company and all other Releasees from liability under such claims.
Indemnification. I agree to hold harmless, defend and indemnify the Company and all other Releasees from and against any and all claims of co-participants, rescuers, and other third-parties arising from conduct in the course of my participation in the Activities. For the purposes hereof, "claims" includes all actions and causes of action, claims, demands, losses, costs, expenses and damages, including legal fees and related expenses. This indemnity shall survive the expiration or sooner termination of the Activities.
Representation, Warranties, Certifications and Acknowledgements of Participant. I hereby:
*Represent and warrant that I am in good health and in proper physical condition to safely participate in the Activities;
*Certify that I have no known or knowable physical or mental conditions that would affect my ability to safely participate in the Activities, or that would result in my participation creating a risk of danger to myself or to others;
*Represent and warrant that I am in full command of my faculties and am not under the influence of alcohol or drugs and agree not to participate in Activities while under the influence of alcohol and/or drugs;
*Acknowledge that Company recommends and encourages each participant to get medical clearance from his/her personal physician prior to participation. I assert that I have not been advised or cautioned against participating by a medical practitioner. I understand that it is my responsibility to continuously monitor my own physical and mental condition during the Activities, and I agree to withdraw immediately and notify appropriate personnel if at any point my continued participation would create a risk of danger to myself or to others;
*Represent and warrant that I am covered by medical insurance;
*Authorize appropriate Company personnel and emergency medical personnel, in the event of an injury to me that renders me unconscious or incapable of making a medical decision, to make emergency medical decisions on my behalf (including, but not limited to CPR and AED). I understand that it is my sole responsibility to seek medical care should I experience any unusual physical symptoms, pain or discomfort of any kind following my participation in the Activities;
*Authorize Company to secure emergency medical care or transportation (i.e., EMS) when deemed necessary by Company; and
*Agree to assume all costs of emergency medical care and transportation.
COVID-19:
*I understand that the novel coronavirus, COVID-19, has been declared a worldwide pandemic by the World Health Organization. I understand COVID-19 is extremely contagious and is believed to spread mainly from person-to-person contract. As a result, federal, state and local governments, and various health agencies recommend regular hand washing, social distancing, and the use of masks in order to prevent contraction and the spread of COVID-19.
*I understand that Company cannot monitor all recreational activities to ensure participants are adhering to social distancing requirements, the use of protective masks, or adhering to proper hand-washing or sanitization and that it is my responsibility to undertake these protections, to report any unsafe or unhealthy practices, and to remove myself from any situation in which I observe unsafe or unhealthy practices.
*I acknowledge the contagious nature of COVID-19 and voluntarily assume the risk that I may be exposed to COVID-19 by my participating in the Activities or during my stay at River Mountain and that such exposure may result in personal injury, illness, permanent disability and death.
*By signing this Agreement, I verify that I have not had a fever, difficulty breathing, chills, unexplained muscle pain/body aches, headaches, sore throat, fatigue, loss of taste or smell, nausea, vomiting, diarrhea, come into contact with someone known or suspected to have COVID-19 in the last 14 days, or been diagnosed with COVID-19 myself.
Delay or Cancellation: I acknowledge that Company at its sole discretion may delay, modify, or cancel any of the Activities if conditions or natural or man-made emergencies make administering the event unreasonably difficult or unsafe. In the event of a delay, modification, or cancellation of any of the Activities as described in this paragraph, I understand that I will not be entitled to a refund of any costs incurred in connection with any of the Activities.
Govern Participation: I understand that Company has the authority to issue instructions or directions relating to the manner of my safe participation in the Activities and the authority to halt my participation in any of the Activities at any time they deem it necessary to protect the safety of participants, spectators, and personnel; and/or promote fairness and the spirit of Company.
Other Terms:
Entire Agreement. This Agreement constitutes the sole and entire agreement of the Company and me with respect to the subject matter contained herein and supersedes all prior and contemporaneous understandings, agreements, representations, and warranties, both written and oral, with respect to such subject matter.
Severability. If any term or provision of this Agreement is invalid, illegal, or unenforceable in any jurisdiction, such invalidity, illegality, or unenforceability shall not affect any other term or provision of this Agreement or invalidate or render unenforceable such term or provision in any other jurisdiction.
Mediation and Arbitration. In the event of a legal issue, I agree to engage in good faith efforts to mediate any dispute that might arise. Any agreement reached will be formalized by a written contractual agreement at that time. Should the issue not be resolved by mediation, I agree that all disputes, controversies, or claims arising out of my participation in any of the the Activities shall be submitted to binding arbitration in accordance with the applicable rules of the American Arbitration Association then in effect. The cost of such action shall be shared equally by the parties. I further acknowledge and agree that any question, issue, or dispute as to the arbitrability of any dispute, controversy, or claim arising out of my participation in any of the Activities, will be submitted to an arbitrator in accordance with the applicable rules of the American Arbitration Association then in effect. The Arbitration Rules of the American Arbitration Association are available on-line at
www.adr.org
.
Photography: I agree that Company may record and photograph me and record my voice during and in connection with the Activities. I agree that Company shall be the exclusive owner of all copyright and other rights in and to any such taping, photography and recording and shall have the right forever and throughout the world to use and license others to use the results of such taping, photography and recording in any medium, whether now known or hereinafter invented or discovered in any production.
Successors and Assigns. This Agreement is binding on and shall inure to the benefit of the Company and me and their respective successors and assigns.
Venue and Jurisdiction. If, despite the overriding Mediation and Arbitration provision I agree to below, legal action proceeds in a court of law, the local state or federal court of Pennsylvania has the exclusive jurisdiction and that only the substantive laws of Pennsylvania shall apply.
Acknowledgment of Understanding: I have read this Agreement, and fully understand its terms. I understand that I am/are giving up substantial rights, including my/our right to sue. I further acknowledge that I am/are freely and voluntarily signing the agreement and participating in the Activities, and I intend my signature to be a complete and unconditional release of all liability due to ordinary negligence of Company and other Releasees or the inherent risks of the activity, to the greatest extent allowed by law in Pennsylvania.