Get Ready To Get Outside! Your Fully Equipped Tent Site Awaits!
Each tent is heated by a propane fireplace. Our bath house hosts 4 modern bathrooms and showers that are available 24 hours each day. We provide hairdryers, towels, shampoo, conditioner, and body wash.
Our camp store has ice, firewood, groceries, outdoor gear...and our lending library of games and books.
Wi-Fi is not available at our tents (but you can charge your devices). Wi-Fi is available for guest use at our Base Lodge.

Here are ALL the things you need to get your glamp on!+
3 Bare Bones rechargeable lanterns. (these are so great you'll want to get one of your own in our camp store).
+
2 flashlights
+
Solar powered
J
ackery power station.
+
Breeo X Series fire pit and and grilling tools.
+
1 complimentary bundle of firewood each afternoon.
+
5 gallon water dispenser.
+
Flatware, serving utensils, steak knives, paring knife, chef knife, veggie peeler and scissors.
+
Enamel dishware
+
Cookware
+
Corkscrew, bottle opener, can opener, colander, french press, and water kettle
+
Dish tub, drying rack, dish soap, scrubber, paper towels, and tin foil
+
Bedding and Pillows
24 hour access to Base Lodge restroom and showers
-Hairdryers
-Shampoo, conditioner, and body wash
-Towels
Borrow books and games from our camp store!
And...
Access to the pool, hot tub, sauna, and lakeshore at next door Cove Point Lodge on Lake Superior.
*dog bowls provided upon request
*$10 fee for dog cot and blanket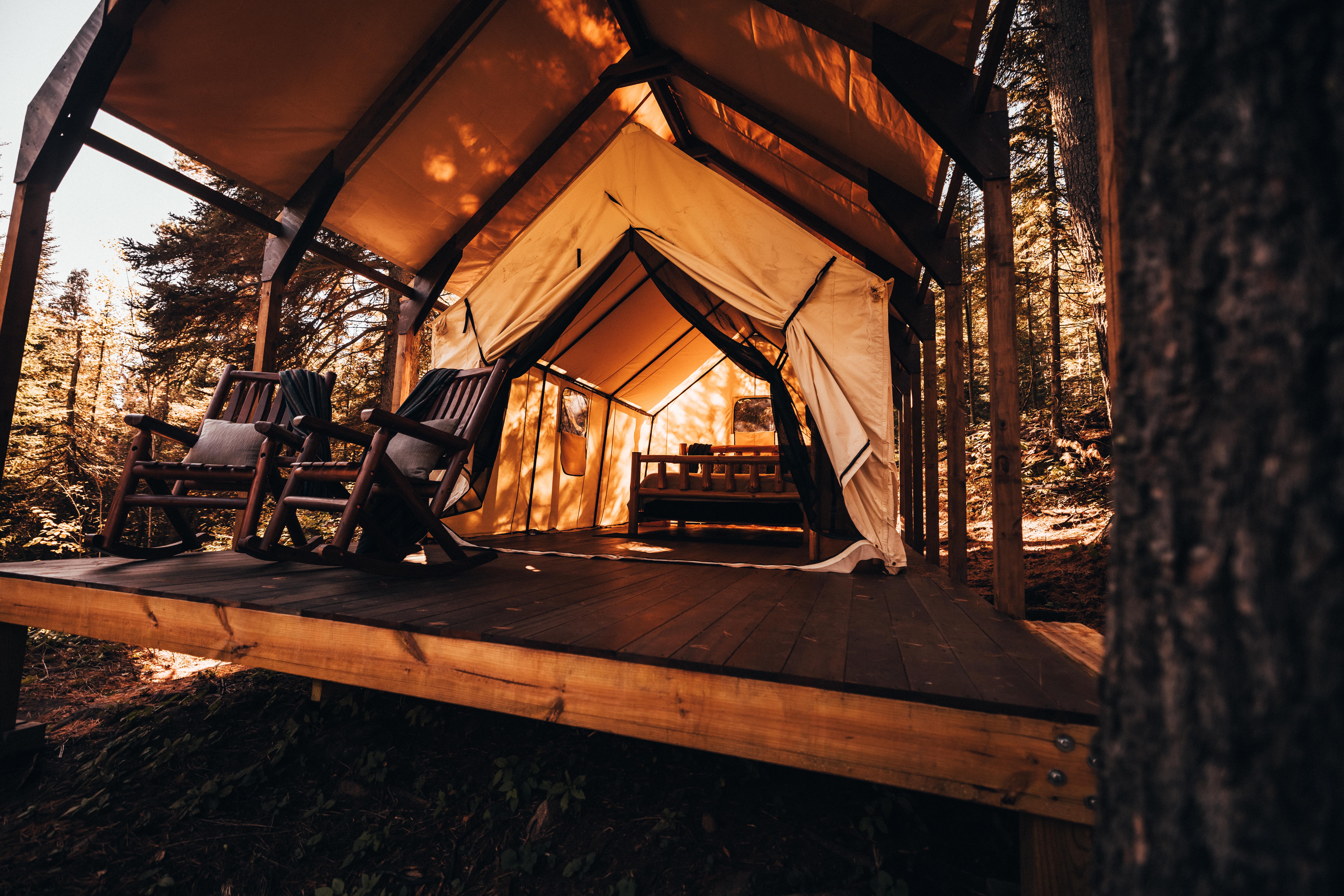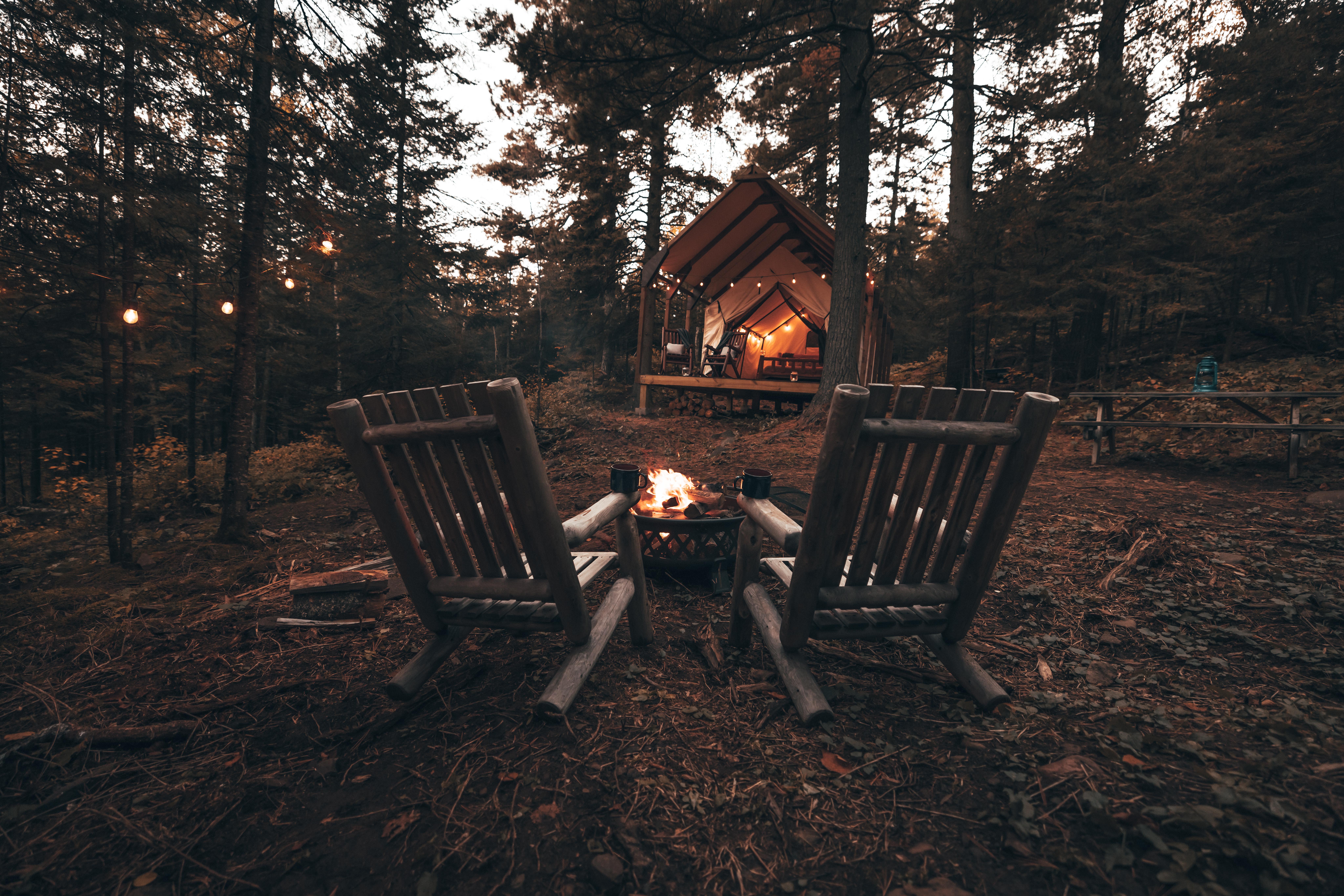 Get Outside and Play Awhile!
North Shore Camping Co. is everywhere you need to be in 2023 - get here, and you'll see!

-Direct Access to the Superior Hiking Trail
-Direct Access to the Split Rock Wilds Bike Trail
-Direct Access to the Gitchi-Gami Bike Trail
-Stroll down the hill to Lake Superior and all the amenities Cove Point Lodge has to offer
-Our 120 acres are yours to explore. (we don't believe in staying on the path)
-Less than 5 miles from Split Rock Lighthouse State Park
-10 miles to Gooseberry Falls State Park
-10 miles to Tettegouche State Park
Venture further out into the Superior National Forest, Finland State Forest, and George Crosby Manitou State Park.Find waterfalls, follow rivers, and fjord streams. Kayak pristine lakes. Paddle the day away. Enjoy a picnic with a view. Climb, hike, bike, and explore the shore.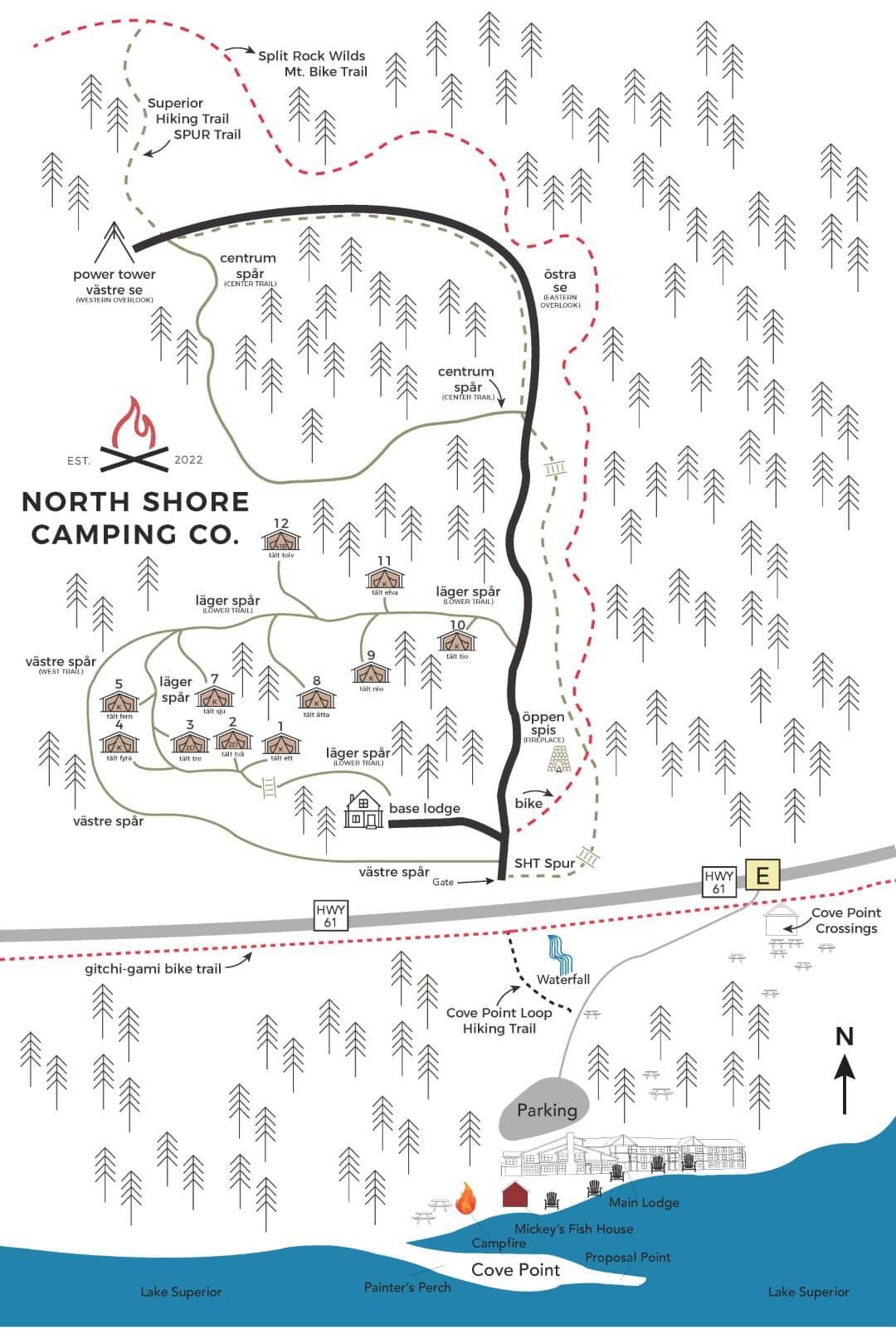 ---
Property Name: North Shore Camping Co
Street Address: 4595 Hwy 61
City : Beaver Bay - Minnesota
Postal Code : 55601
Phone: 218-414-7733
Amenities
Gift shop
Accessible Parking
Carbon monoxide detector
Carbon monoxide sources
Cashless payment accepted
Common areas disinfected daily
Fire extinguishers
Fireplace, outdoor
Heating
Local safety protocols followed
Low bathroom sink
Picnic area
Refillable water stations
Smoke alarms
Toilet with grab rails
---
Check-in/Check-out Policies
This property has the following check-in and check-out times and policies:


Check-In: 3:00 PM
Check-Out: 11:00 AM
Property and Cancelation Policies :
Reservations may be cancelled 30 days prior to arrival for a full refund.
Reservations may be moved to new dates in the current year up to 30 days prior to arrival without penalty.
Reservations may be moved to the following year with a full transfer of deposit up to 30 days prior to arrival for a $50 fee.


Terms and Conditions
Get Here. Get Outside. Play Awhile...but be Safe! Rules of the Forest at North Shore Camping Co.
(Please Read Carefully and contact us with any questions prior to arrival)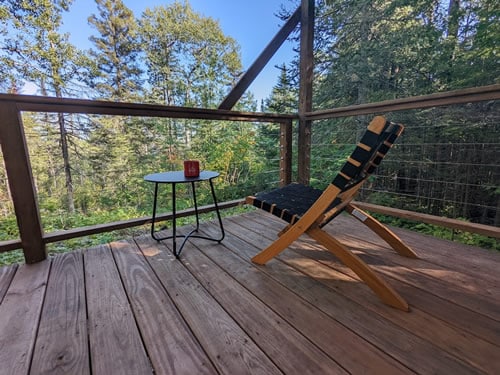 Get Here: 3pm

Get on Your Way: 11:30 a.m.

Get Quiet and Get Up: Quiet hours are 10:00 p.m to 6:00 a.m You don't have to get inside at 10:00 p.m. but we do ask that you turn off any amplified sound, and keep your voices around the campfire to a reasonable level. Some of us have morning coffee to make as adventure beckons each morning.

Get Clean: All of our sites are within 400 feet of our Base Lodge, which houses our modern (we can't wait for you to see them) restrooms and showers.

Get Green: No guest vehicles, including ATV's or snowmobiles, are allowed outside the designated parking areas. We'll get you and your belongings to and from your site at check in and check out. The rest is up to you. Our paths meander through the forest, and are not paved. Terrain can be rocky, and varied in elevation. Please contact us with questions.

Get your Friends Here, but...all visitors must register at the Base Lodge. Four visitors maximum per site. All visitors must be accompanied by an NSCC guest, and must get themselves to our gates by 8:00 p.m.

Get your Dog on Vacation: Dogs are allowed, 2 dogs per site. But we really do like dogs, and we hate the thought of anyone staying at home - so please do contact with special requests.
Humans must do all the basic dog things - leashed if not in your campsite, and always leashed if your four legged friend has an inclination to roam. Pick up after your dog, take care of your dog, limit the barking of your dog... and basically be a good dog human. When you get here, there will be something you'll sign that means that you agree to take good care of your dog. We know that your dog will take good care of you - they don't have to sign anything.

Got other Pets? We've taken our cats camping. While we do love cats, and would be game for giving yours a chase around the woods when he or she decides to go feral because sometimes it's fun for us, and we need the exercise, and sometimes it's great entertainment for others... but we're going to respectfully ask that you leave your feline friends at home. Contact us about other pet needs or requests.

Get Your Trash Out: All garbage should be taken out of your site at night, or when you will be gone for an extended period, and put in the garbage cans along the main trail.
Do not dump food waste, dishwater, or other items that may attract animals at campsites. We provide trash bags.
Get Bear and Critter Safe: Each site has a Bear Locker, and any food or beverages being kept onsite overnight must be fully inside this locker. Our lockers have room for your cooler, your friend's cooler, and your other friend's cooler too.

Please don't feed any of our critters. They've been getting along for many years without us, and we'd like them to continue on in the same manner after we're all long gone.
Don't ride any moose, don't chase a bear, and please don't lasso the deer. We mean it. We know it's tempting, but please. Leave our creatures be.

Get Fired Up:
Campfires need to be under your control and attended at all times.
To protect our forest, firewood cannot be carried in from off-site. Please don't bring us harmful insects and decimate our ecosystem. It's just rude, right? We promise not to bring any bugs to your house.

We do provide one bundle of wood each day, and additional bundles may be purchased at our Base Lodge.
Do not burn trash or plastic. If you do, we'll ask you to get right on out.

Getting Basic:
Cutting of trees and brush is prohibited, and our downed trees are part of our vibe. Let them do their thing and grow fungi. Don't be a a downer - please don't burn wood from our forest floor.
No hunting or trapping is allowed on NSCCo property - that's not anything we want to explain to anybody's kids.

Getting Lit: Fireworks are not allowed. Never, ever, never.Not allowed, ever.

Get Ready: We can't wait for you to get here. We've been working, and working, and we're so happy to finally be sharing our dream with you!